Noticias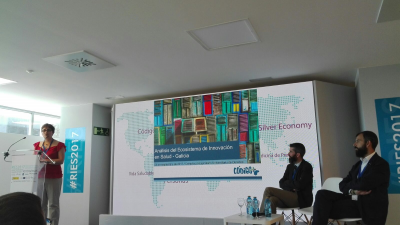 02-10-2017
#RIES2017: Presentation of the first results of the project Código Máis
Clúster da Saúde de Galicia (CSG) held, in collaboration with ECHAlliance (Alliance for Connected Health of Eurpoean), the conference # RIES2017 & #CodigoMais in the Hospital Complex of Ourense (CHUO).

During the conference, challenges and cases of success were presented to different agents from the European biosanitary innovation under the motto "International Challenges of the Ecosystem Health. Local solutions". In addition, the first results of the project Código Máis have been also presented. This project is framed within the Interreg V-A Spain-Portugal Cross-border Cooperation Program (POCTEP). Its main objective is the creation of an innovation ecosystem in the field of health, in the north of Portugal and Galicia. The galician team is coordinated by Agencia do Coñecemento en Saúde (ACIS) and the participants are Universidade de Vigo (UVigo), Universidade de Santiago (USC), Cluster da Saúde de Galicia (CGS) and Cluster Tecnolóxico Empresarial das Ciencias da Vida (BIOGA).

The project Código Máis was hosted by Luis León, Chief of the investigation area at ACIS, and the results were exposed by Luís Soares, Strategy Director at HEALTH CLUSTER PORTUGAL (HCP) and Gisela García-Álvarez, Cluster Director at Cluster da Saúde de Galicia (CSG).